Unfortunately NAER has made the difficult decision to cancel the 2020 conference at this time.
We will be looking to reschedule the conference at the same venue in 2021, thank you for your support.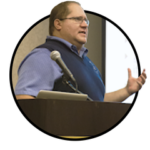 Demystifying Artificial Intelligence & Practical Talent Sourcing Strategies
Speaker – Shally Steckerl
Social media for busy recruiters:  Facebook, Twitter, Pinterest, Instagram – separate what's real from the hype!
Practical ways of getting contact information, ensuring email deliverability, and increasing response.
Simple sourcing tools and how to use them.
Using everyday language search to quickly identify potential candidates.
About Shally Steckerl
Shally Steckerl is an accomplished senior executive with more than 20 years of success across human resources, talent acquisition, and technology spaces. His areas of expertise include talent sourcing, recruitment strategy, technical recruiting, and change management. Shally holds a leadership position as a talent acquisition strategy consultant with Fiserv where he is a subject matter expert and internal consultant on talent sourcing and recruitment technology, charged with finding and engaging talent for the most difficult to fill roles in the organization. He has also served as an adjunct professor for Fox School of Business and Management at Temple University where he was appointed to design and teach the first-ever full-credit course on talent acquisition and recruitment to seniors and MBAs enrolled in the HR program. Prior to his role at Temple University, Shally additionally led, as the director of global talent sourcing, for Microsoft and was the talent sourcing leader for Google. Shally obtained his dual bachelor's degree in international business and communications from Rochester Institute of Technology. Shally's clients include: Fiserv, Microsoft, Google, Coke, Motorola, Cisco, Disney, Walmart, Sage, Akamai, Johnson Controls, Merck MSD, Netflix, Randstad, Boeing, CH2M, and many other nationally recognized companies.
---
Agenda
9-9:30 am
Coffee and Introductions
9:30 to 11:30 am
Facilitated Roundtable Discussion: Current Search Firm Challenges & Opportunities
11:30 am to noon
Break
noon to 1 pm
Lunch and presentation:

John Perton, Vice President for Business Development, BrightMove

1 to 4 pm
Keynote Speaker – Shally Steckerl

Demystifying Artificial Intelligence & Practical Talent Sourcing Strategies

For questions about the conference email Kathy Cole–kcole@dkcole.com